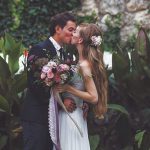 Makeup for a Garden Wedding: Fresh and Romantic
A garden wedding is a celebration of love amidst the beauty of nature, where vibrant blooms, swaying trees, and the gentle kiss of the sun create a breathtaking backdrop. With the serene ambiance of a garden, brides have the perfect canvas to adorn themselves in fresh and romantic makeup that complements the setting's natural charm. Whether you're the blushing bride, a bridesmaid, or a guest, the right makeup can elevate your look, ensuring you shine amidst the floral splendor.
Makeup for a Garden Wedding: The Essentials
When you're preparing for a garden wedding, achieving a fresh and romantic look starts with the right makeup essentials. Your makeup should enhance your natural beauty and harmonize with the idyllic outdoor setting. In this section, we'll explore the key elements to create a stunning garden wedding makeup look.
Creating a Flawless Base
Choosing the Right Foundation and Primer: Your foundation is the canvas upon which your garden wedding makeup masterpiece will be created. Opt for a lightweight, long-lasting foundation that matches your skin tone perfectly. Consider using a primer to create a smooth base that helps your makeup stay put throughout the day. Look for primers with SPF for added sun protection.
Concealing Imperfections and Blemishes: To achieve a flawless complexion, use a high-quality concealer to cover any imperfections or blemishes. Blend it seamlessly into your foundation for a natural finish. Remember, less is often more, and you want your skin to breathe, especially in an outdoor setting.
Achieving a Natural, Dewy Complexion
Tips for a Healthy Glow: Garden weddings call for a radiant, dewy complexion. Use a highlighter on the high points of your face – cheekbones, bridge of the nose, and cupid's bow – for a luminous glow. Be sure to blend it well for a subtle shimmer that catches the sunlight.
Highlighting and Contouring for Dimension: Lightly contour your face for dimension. Choose matte products that are only a shade or two darker than your skin tone. Blend carefully to avoid harsh lines, ensuring your features look sculpted yet natural.

Romantic Eye Makeup
Soft, Neutral Eyeshadow Palettes: Opt for soft, neutral eyeshadow palettes that complement the garden's natural colors. Earthy tones, soft pinks, and muted golds work beautifully, creating a romantic and harmonious look.
Eyeliner and Mascara Choices: A garden wedding calls for softer eyeliner, such as brown or gray, for a gentler look. Use a waterproof mascara to prevent smudging, especially if the day is sunny or windy.
Eyebrow Grooming for a Polished Look: Well-groomed brows frame your eyes and enhance your overall appearance. Define your brows with a natural-looking brow pencil or powder for an elegant touch.
Luscious Lips
Lipstick Shades that Suit Garden Weddings: For garden weddings, consider soft pinks, peaches, or rosy nudes that evoke romance and freshness. These shades not only look beautiful but are also forgiving as they fade throughout the day.
Long-Lasting Lip Products for the Ceremony and Reception: Choose long-lasting lip products that will stay put, even through those unforgettable moments like your first kiss and toasts. Lip stains and matte liquid lipsticks are great options.
Makeup for Different Garden Wedding Styles
Garden weddings come in a variety of styles, and your makeup can play a significant role in enhancing the theme and overall ambiance. Whether you're embracing the bohemian, formal, or vintage garden wedding style, here are some makeup tips to help you look your best and perfectly complement the setting.
Bohemian Garden Weddings
Emphasizing Natural and Earthy Tones: For a bohemian garden wedding, channel your inner free spirit by embracing natural and earthy makeup tones. Opt for soft browns, warm oranges, and muted greens to reflect the organic charm of your surroundings. Keep your makeup light and breezy, allowing your natural beauty to shine through.
Flower Crown and Accessory Ideas: Bohemian weddings often feature flower crowns and whimsical accessories. Complement these by incorporating small blooms into your makeup, like floral accents at the corners of your eyes or as part of a hairpiece. It's all about embracing nature's beauty in your look.

Formal Garden Weddings
Elegant and Timeless Makeup Looks: Formal garden weddings exude sophistication and timeless beauty. Achieve this style with elegant makeup choices. Opt for classic red or nude lipstick, well-defined eyeliner, and a flawless base. Matte eyeshadows and subtle blush can create a polished, refined appearance.
Tips for Maintaining a Sophisticated Appearance: As you'll be outdoors, be mindful of the weather. Use setting spray to keep your makeup in place and blotting papers to manage shine. A touch-up kit with essentials like lipstick and powder can be a lifesaver for maintaining your polished look throughout the day.
Vintage Garden Weddings
Retro-Inspired Makeup and Hairstyle Suggestions: Vintage garden weddings call for makeup and hairstyles that evoke a bygone era. Consider retro red lips paired with cat-eye eyeliner or soft, smoky eyes for a sultry, vintage look. Victory rolls, finger waves, or pin curls can be great choices for your hair.
Accessorizing with Vintage Elements: To complete the vintage theme, incorporate vintage elements into your makeup, such as antique brooches, pearls, or hairpins. These touches can add an authentic, nostalgic charm to your overall appearance.