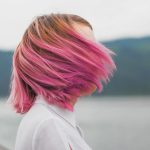 Bridal Hair Color: To Dye or Not to Dye?
A bride's journey towards her wedding day is nothing short of magical. It's a time when dreams come to life, and every detail matters. From the dress to the makeup, the bouquet to the shoes, every choice is made with meticulous care to ensure that the bride radiates a unique, unforgettable beauty as she walks down the aisle. Among these choices, one question often arises – should the bride-to-be alter her hair color? In the world of bridal beauty, the decision of whether to dye or not to dye is a pivotal one, with diverse opinions and considerations surrounding it.
The Appeal of Hair Color Transformation
Exploring the allure of changing hair color for your big day
Your wedding day is not just any ordinary day; it's a day of transformation, when you transition from one chapter of life to the next. What better way to signify this change than through a stunning hair color transformation? The allure of changing your hair color for your wedding goes beyond aesthetics; it's about embracing this new phase with a fresh outlook and newfound confidence. A different hair color can make you feel like a brand-new version of yourself, ready to embark on the journey of a lifetime with your partner. It's an opportunity to express your individuality and break free from routine, even if just for a day.
The psychology of feeling different with a new hair color
Psychologically, a hair color change can be a powerful tool to boost self-esteem and create a sense of empowerment. The novelty of a different hair color often brings a surge of self-assuredness, making you feel bold, beautiful, and in control. This newfound confidence can be particularly beneficial on your wedding day when all eyes are on you. It's not just a physical transformation; it's a psychological one too, helping you walk down the aisle with a radiant, unstoppable spirit.

Temporary vs. Permanent Solutions
Temporary hair color options
Hair extensions: When contemplating a temporary hair color change for your wedding day, hair extensions can be a game-changer. These versatile, clip-in extensions come in a myriad of shades and styles, allowing you to experiment with various looks without any long-term commitment. With hair extensions, you can easily achieve the length and volume you desire, and they can be matched to your chosen wedding hairstyle. The best part? You can remove them at the end of the day, returning to your natural hair color effortlessly.
Temporary dyes and sprays: Temporary hair dyes and sprays are a quick and convenient way to experiment with new shades. These products are designed to be easily washed out, ensuring your hair returns to its original color after the celebration. They are perfect for adding a pop of color or highlights without the worry of permanence. This option is particularly appealing if you're unsure about committing to a new color long-term but want to make a statement on your special day.
Permanent hair color options
Highlights and lowlights: For a more lasting transformation, highlights and lowlights offer a subtle, elegant way to enhance your hair color. Highlights add brightness and dimension, while lowlights create depth and contrast. This technique can be tailored to complement your natural hair color, creating a harmonious and vibrant look. The advantage of highlights and lowlights is that they can be refreshed periodically, making them suitable for brides who want a long-term change but with the option to modify their look in the future.
Full dye jobs: Full dye jobs involve changing your entire hair color. Whether you opt for a dramatic shift or a more subtle change, a full dye job can completely transform your appearance. It's a permanent solution, so careful consideration and professional advice are essential. This choice is perfect for brides who are confident in their decision to embrace a new hair color and are looking for a long-term commitment that aligns with their wedding and post-wedding style.

Bridal Hair Color Trends
Recent Trends in Bridal Hair Color
Wedding hair color trends, like fashion and beauty, are ever-evolving. Today's brides have a wide array of contemporary options to choose from. In recent years, we've witnessed a shift towards more natural and subtle hair color choices. Soft, sun-kissed highlights, creamy blondes, and rich brunettes have gained popularity, emphasizing the timeless beauty of a bride's natural hue. Balayage and ombre techniques have been at the forefront of these trends, offering a seamless blend of colors that enhance the overall bridal look.
Balayage, Ombre, and Other Popular Techniques
Balayage and ombre have become household terms in the world of bridal hair color. Balayage is a freehand technique that creates a sunlit effect, with highlights strategically placed to mimic the way the sun naturally lightens hair. Ombre, on the other hand, involves a gradual transition from darker to lighter shades, typically from roots to tips. These techniques add depth and dimension to your hair, accentuating your features and creating a soft, romantic feel. Beyond balayage and ombre, other techniques like sombre (subtle ombre) and foilyage (a combination of balayage and foil highlights) are also in vogue, offering versatility and sophistication to brides.
How to Make Trendy Hair Colors Work for Your Wedding
Incorporating trendy hair colors into your wedding look can be a game-changer. To make it work seamlessly, consult with a professional colorist who can tailor the trend to your individual style. Choose shades that complement your skin tone and wedding theme. Soft pastels, rosy golds, and warm caramels are popular choices. Remember that subtlety often reigns supreme when it comes to bridal hair color trends, as these looks are meant to enhance your natural beauty and create an effortlessly chic aesthetic. Balancing modern trends with classic elegance can help you achieve a bridal look that stands the test of time.