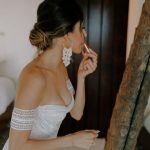 Essential Bridal Beauty Products to Invest In
Your wedding day is a momentous occasion, a day when you'll be the star of the show, and every eye in the room will be on you. Naturally, you want to look and feel your absolute best. Achieving the perfect bridal look goes beyond choosing the right gown and hairstyle; it's also about investing in the essential beauty products that will help you shine on your special day.
Makeup Must-Haves: Achieving Flawless Bridal Beauty
When it comes to achieving bridal beauty, makeup is often the magic wand that enhances your features and creates a flawless canvas. To look stunning on your big day, it's essential to invest in a few makeup must-haves. Let's dive into the world of makeup essentials that will leave you looking radiant from the moment you walk down the aisle until the last dance.
Foundation and Concealer: The foundation is the base upon which your entire makeup look rests. Opt for a high-quality, long-wear foundation that matches your skin tone perfectly. Pair it with a concealer that can hide any imperfections, from blemishes to under-eye circles. These two products are your go-to for creating a smooth, even complexion that photographs beautifully.
Eye Makeup Products: Your eyes are the windows to your soul, and on your wedding day, they should be captivating. Eyeshadow palettes are a bride's best friend, offering a range of shades to complement your bridal theme. Subtle nudes or shimmery neutrals, the choice is yours. Don't forget eyeliner and mascara – these two work together to define your eyes and make them pop, creating an enchanting gaze that draws everyone in.
Lip Products: Your lips are meant to be kissed, so make them irresistible with the right lip products. A high-quality lipstick and lip liner are essential. Choose a shade that complements your wedding attire and personal style. For touch-ups throughout the day, keep a lip gloss on hand. It adds a bit of shine and keeps your lips looking kissable for those picture-perfect moments.

Hair Care Essentials: Unlocking Your Bridal Beauty
Your wedding day is the epitome of elegance and grace, and your hair is a canvas waiting to be adorned. To achieve the perfect bridal look, invest in essential hair care products that will help you turn heads as you walk down the aisle and dance the night away.
High-Quality Shampoo and Conditioner: Your journey to bridal beauty starts in the shower. Opt for high-quality shampoo and conditioner to ensure your hair is clean, healthy, and ready for styling. Look for products tailored to your hair type to address specific needs, such as moisture, volume, or color protection. Healthy hair is the foundation of any stunning bridal hairstyle.
Heat Styling Tools: Whether you're planning an intricate updo, flowing waves, or a sleek bun, heat styling tools are your best friend. Invest in a reliable flat iron, curling wand, and hair dryer. These tools allow you to craft the perfect hairstyle that will stay in place all day and night.
Hair Accessories for Styling: From tiaras to combs, hairpins, and veils, the right hair accessories can elevate your bridal look. Choose accessories that complement your hairstyle and overall theme. They add that touch of glamour and personality, making your hairstyle uniquely yours.
Hairspray and Hair Serums for Hold and Shine: To ensure your bridal hairstyle remains flawless, use hairspray and hair serums. Hairspray locks your hair in place, while serums add shine and control frizz. The combination of the two keeps your hair looking perfect from your first steps down the aisle to the last dance.

Nails and Hands: The Final Touch of Bridal Beauty
As you prepare for your wedding day, don't forget that your hands will play a significant role. From exchanging rings to those close-up photographs, your nails and hands should be in top form. Here's a guide to the essential nail and hand care products you'll need for your bridal beauty routine.
Nail Care Products:
Base and Top Coat: For a lasting and chip-free manicure, begin with a strong base coat. It creates a smooth surface and helps your nail polish adhere better. Finish your manicure with a top coat to seal in your nail color and add a brilliant shine. These two products are the secret to a long-lasting and stunning nail look.
Long-Wear Nail Polish: On your wedding day, you won't have time for frequent touch-ups. Invest in a high-quality, long-wear nail polish that resists chipping and fading. Choose a shade that complements your overall look and theme, whether it's classic nude or a bold pop of color.
Hand Moisturizer and Cuticle Oil:
In addition to your nails, your hands need attention too. Hand moisturizer is crucial for keeping your skin soft and supple. Apply it regularly in the weeks leading up to your wedding. Cuticle oil is another essential; it nourishes your nail beds, softens cuticles, and ensures your nails and hands look their best.